UPDATE: Another lawsuit: AllGood Seeks to Derail London Shows - MiniB#67
Someone else is trying to stick their hands into Michael Jackson's pockets. Shocking, I know. The amount of people attempting to prevent Jackson from focusing on his career and sidetracking any plans to show off his talent has grown... again.
According to a report from Reuters, some dude in New Jersey (AllGood Entertainment) is claiming he has a deal committing Jackson to a performance in the United States which stops him from performing in other places; other places like London's O2.  The deal was supposedly struck with Jackson's alleged manager, Frank Dileo.
(Update: ) The only problem is that Jackson family members released a statement on May 15 2009 saying they were in no way involved in any performances with Michael, as claimed by AllGood. Oops.
Questions which jump out include: Is Frank Dileo authorized to sign deals on Jackson's behalf?  When was this alleged 'deal' struck? Why is AllGood suing Jackson now when plans for the London O2 dates were announced months ago?  Who the hell heard of AllGood Entertainment before this suit? Are we likely to get answers to any of these questions?
Outside of shopping with his kids, Jackson has scarcely made any public appearances in the U.S. and has been hard at work planning something great for audience members who have planned to fly in from all over the world to see him perform in London.
AEG Live, the people behind the London O2 gigs, are also being dragged into these "meaningless" claims (see
Reuters article
).
Of course no lawsuit against Jackson would be appropriate if the plaintiff weren't suing for some astronomically ridiculous and probably wholly unjustifiable amount of money.
AllGood wants $40 million. FORTY MILLION dollars. Are you kidding me? To some observers, this appears solely as an attempt to threaten to derail Jackson's big plans.
Did AllGood wait until now in hopes of increasing the chances they will get a financial settlement of some sort -- which may or may not be deserved -- hoping Jackson will want them out of the way so he can go to London? Or are they hoping to continue to stain Jackson by making other reputable people unwilling to do business with him?
According to AllGood's lawsuit, they met with Joe Jackson, Michael Jackson's father, on Oct 21 2008 in Las Vegas. They were then directed to Frank Dileo and met with him on Nov 20 2008 to talk about this alleged deal to get Michael and his brothers and sisters to perform together.
Only, whoops, there's a BusinessWire press release dated Oct 30 2008 (before AllGood even met with Dileo) from "Michael Jackson's spokesperson, Dr. Tohme" saying that Jackson had no plans whatsoever to tour or record with his family.
From the BusinessWire press release:
Michael Jackson Issues Statement Regarding Participation in a Jackson 5 Reunion

LOS ANGELES--(BUSINESS WIRE)--Michael Jackson's spokesperson, Dr. Tohme, in response to recent rumors regarding Michael's participation in a Jackson 5 reunion, has issued the following statement from Michael Jackson:

"My brothers and sisters have my full love and support, and we've certainly shared many great experiences, but at this time I have no plans to record or tour with them. I am now in the studio developing new and exciting projects that I look forward to sharing with my fans in concert soon."
(see Business Wire Michael Jackson Issues Statement Re Participation in Jackson 5 Reunion).


So before AllGood even met with Dileo, Jackson had already publicly shot down the mere rumors that he planned to perform with the other members of the Jackson family.

Maybe AllGood will pull an 'Arvizo' and magically change their timeline of events after such facts come to light.

Moreover, AllGood appears to be claiming Dileo had authority to also enter into agreements/contracts on behalf of all the other members of Jackson's family who were supposed to be in on this deal. That makes no sense at all.
EDIT (Newly found information): The Jackson's released a statement back on May 15 specifically denying any participation in any reunion shows. From seopressreleases.com:

OFFICIAL STATEMENT

The Jacksons Deny Any Involvement With Planned Jackson 5 Reunion Show in Texas With Brother Michael & Sister Janet

Beverly Hills, CA, May 15, 2009 — In an official statement issued today The Jacksons (Jackie, Tito, Jermaine, Marlon and Randy Jackson) have denied they were in any way involved with a proposed Jackson 5 reunion concert in Texas on July 3rd claimed this week by New Jersey concert promoters AllGood Entertainment.

According to The Jackson's manager, Danny O'Donovan, the original members of the Jackson 5, and younger brother, Randy, who later joined Michael and his older brothers performing as The Jacksons, were never approached about participating in the purported Texas concert event with Michael and sister, Janet.

The Jacksons have said they will support Michael in fighting any legal action brought by AllGood Entertainment with regard to the promoter's claim about a July 3rd concert in Texas Stadium. O'Donovan said "There is absolutely no merit in this claim, and we had no knowledge of any contract with anyone, for a so-called family tour reunion. In fact, The Jacksons were never even approached about it and no offer was ever made to them."

All of the Jackson brothers are thrilled that Michael is returning to the live stage this summer and are totally in support of his historic 50 concert run at London's O2 Arena. They eagerly look forward to seeing and enjoying his "This Is It!" concert event.

Contact Information
DANNY O'DONOVAN
Title: President
DANNY O'DONOVAN ENTERTAINMENT GROUP
468 N. Camden Drive
Beverly Hills, CA 90210
Phone: (310) 285 6000
Alt. Phone: (310) 995 1550
Fax: (310) 285 0016
Email: This email address is being protected from spambots. You need JavaScript enabled to view it.
Source: seopressreleases.com
In addition, the AllGood suit alleges Jackson and Dileo were "coerced and/or induced" into screwing them over by AEG.  Maybe AEG gave them a glass of Jesus-juice? Good lord! Pun intended.

According to the copy of the lawsuit found online, AllGood did not include any copies of documentation showing Michael Jackson's signature on any signed agreements, nor the signatures of all the Jackson family members who were alleged to have been part of this mythical reunion performance.

The only person cited repeatedly in these claims is Frank Dileo. Maybe their quarrel is with him because it seems as if Jackson didn't promise AllGood a damn thing.

When it comes to Jackson, will the phrase 'no good career comeback goes un-sabotaged' apply?

We will keep you updated on this crap... I mean, this news.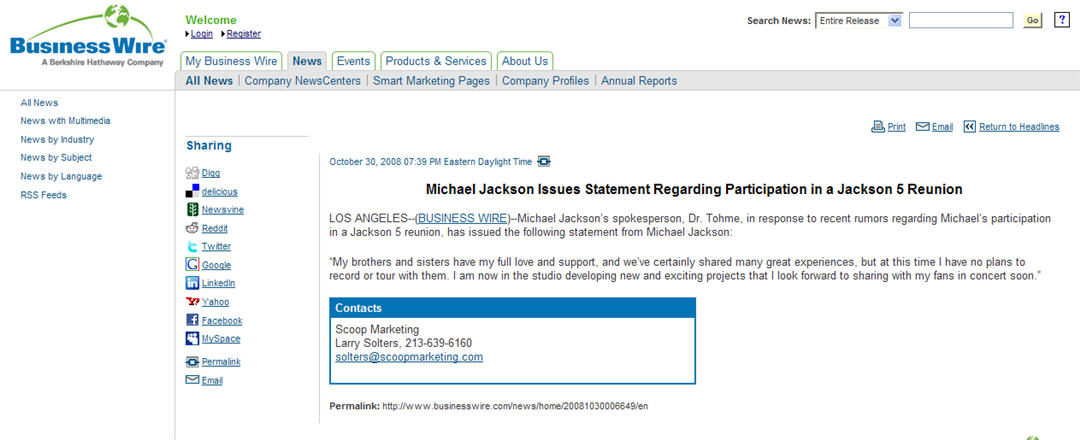 -MJEOL