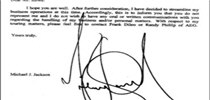 Last night (July 20 2009) on CNN's Larry King Live a concert promoter by the name of Leonard Rowe appeared on the show claiming to have a close relationship to Michael Jackson for 30 years. He also alleged Jackson didn't want to do 50 shows in London and had no idea what his deal with AEG entailed.
He made a number of allegations which, regardless of whether they're true or not, made him look irresponsible and dubious.
At some point apparently Rowe claimed to have been working for Jackson at the time of his death. However, a letter has surfaced showing the singer supposedly rethought letting Rowe into his inner circle.
Continue Reading