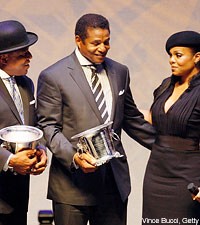 The Jackson family, minus Jermaine and Michael Jackson, who was rumored to be attending, but clearly absent, reunited Thursday night (Sept 4) in L.A. as the family was honored by songwriting publishers BMI for their contribution to music. Janet Jackson was on hand to present the award to her brothers Randy, Marlon, Jackie, and Tito.
Before the show, held at the Wilshire Theater, the foursome spoke to the BoomBox about the accolade. "We're very happy, very proud of this moment today," Jackie said. As part of the night's several acts, including Mario, Keri Hilson, and O.N.E. Asked about artists carrying on the Jackson 5 classic sound, Marlon said, "I hear it all the time on the radio, so that's a great thing to feel that we have so many artists today that enjoyed that music. That is the thread carried unto their musical abilities."
Among those performing for the group was pop singer JoJo, who teamed with R&B crooner Lloyd for 'I'll be There.' Before taking the stage the singer admitted the thought of singing one of the group's biggest hits in front of the family prompted some anxious moments. "It's really nerve wracking, it's not something to be taken lightly. I know their dedication, their work ethic, and how much they put into each performance, so I'm gonna do my best," she told the Boombox.
For many of the attendees the night was an occasion to be a fan. "I just got through meeting Jackie, Tito, and Randy and Jackie turned around and touched my shoulder again," Gnarls Barkley voice Cee-Lo told the Boombox. "That was kind of cool so hopefully I'll get a chance to bump back into them and talk to them a little bit longer. But this is their night, I'm just a fan, and I'm just wanting to be a part of it."
Source: http://www.theboombox.com/2008/09/05/the-jacksons-reunite-for-bmi-honor/