Michael Jackson declared his return to the world stage with a … performance as he announced a series of ten shows at the O2 Arena in East London that could net him £50 million.
Seven thousand fans were kept waiting for 90 minutes before Jackson appeared for a brief statement that consisted mainly of him repeating the phrase "this is it" and punching the air.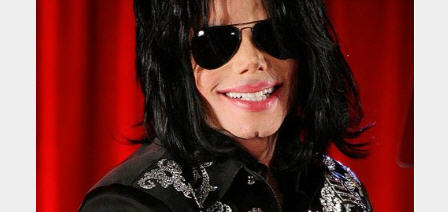 The first of his concerts, which AEG Live, the promoter, promised would be two-hour "all-singing and all-dancing spectaculars", will be held on July 8, with tickets on sale for between £50 and £75. Jackson, who last went on tour 12 years ago, will not perform elsewhere this year. He said that the concerts would be his last in London.
…
Randy Phillips, president and chief executive of AEG Live, toldThe Times that the ten London concerts would mark the first step of a three-year tour and the release of a new album. He said: "Surviving the press conference was the first step. We've a three-year plan for Michael Jackson and if it all goes well we will gross $400 million (£280 million) in total."
He confirmed that the singer could earn "probably something pretty close to" £50 million for the London shows. Future tours are likely to involve trips to New York, Paris and Mumbai.
Jackson appeared after a four-minute video of his greatest performances was broadcast to the crowd. The video will also take over an entire advertising break on Sunday night, during the ITV show Dancing on Ice.
He told the crowd: "This is it. I will be performing the songs that my fans want to hear. This is the final curtain call. I love you so much."
…Asked how many tickets needed to be sold at the 20,000-seater arena for the tour to be profitable, Mr Phillips replied: "We pretty much need to sell it out every night." Last night the ticket website was receiving 16,000 hits per minute. Jackson will remain in London this week and will watch the musical Oliver! tonight.