Mother of Jackson's Accuser: I'm a Fraud
Posted Aug 1st 2007 1:11PM by TMZ Staff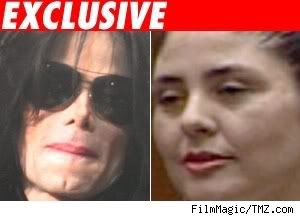 The mother of Michael Jackson's 2004 accuser has struck a plea bargain in her welfare fraud case.
TMZ was in court as Janet Arvizo (whose married name is now ironically Janet Jackson) copped a plea through her lawyer. Arvizo had been charged with felony welfare fraud. During cross-examination in the molestation trial, Arvizo admitted she had failed to disclose income that would have disqualified her from receiving welfare benefits.
In addition to pleading to a reduced charge of misdemeanor welfare fraud, Arvizo was fined over $6,000, performed 166.5 hours of community service and was sentenced to 30 days of informal probation.
Her lawyer is planning on filing a motion to have the charge wiped clean from her record.
Source: http://www.tmz.com/2007/08/01/mother-of-ja…ser-im-a-fraud/