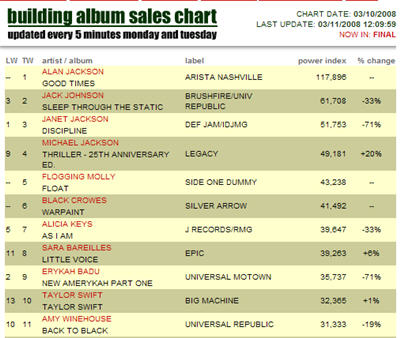 HitsDaily Double numbers show an increase in the sales for Thriller25, which is holding its own among the more recent releases on the charts.
According to HitDaily, there is only a small difference between Jackson's sales and the sales of his little sister Janet Jackson's new album, Discipline.
Thriller25's numbers, again as estimated by HitsDaily shows sales of 49,181. If you remember, the final numbers for Thriller25 were higher than the HitsDaily estimate when Thriller25 was first released.
Critics are also surprised at the success of the album and the fact that it is outselling so many other albums this week including 2008 Grammy performers Alicia Keys and Amy Winehouse.