Millions lusted after her. Just as many envied her.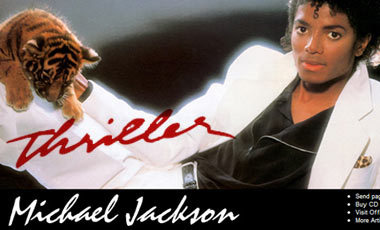 Twenty-five years ago, Ola Ray bagged a dream job, and a piece of history, by landing the role of Michael Jackson's blushing love object in the video for "Thriller."
Today, with "Thriller" bound for a new life as a Broadway musical, the 48-year-old Ray lives quietly as a stay-at-home mom in Sacramento, Calif.
She made little money from the clip and scored only a few major acting jobs in the last two decades.
"Everyone thinks I made millions," Ray told the U.K.'s Sunday Mirror recently. "But I don't care. … I wouldn't change a thing."
It just thrills her to have been a part of a music video that changed the nature of the form and helped shoot Jackson's career into the stratosphere.
It all began in 1983, when Ray, a then-22-year-old model pining for an acting career, turned up at a casting call to play Jackson's girlfriend in "Thriller."
The clip, directed by the "Blues Brothers" overseer John Landis, promised to be the "Gone With the Wind" of music videos, the longest and most expensive clip ever made. Hundreds of young women showed up that day.
"I remember it like it was yesterday," Ray recently told Sacramento TV station KCRA.
"The minute I walked into the audition, I knew the part was mine," she commented to the Mirror. "I read a few lines, danced to some music, and the rest is history."
Ray had some prior experience before the camera – though in a far less demure role.
Three years earlier, she purred across the cover of Playboy's June 1980 edition and also graced its nude centerfold. "[Michael] seemed taken by the fact I was a Playboy model," Ray has said.
Her time with Playboy coincided with that of cover model Jeana Keough, now one of the bitchy stars of "The Real Housewives of Orange County."
At the time, Jackson was dating Brooke Shields, though Ray made it known she wanted that spot in real life as well as on screen.
It wasn't happening.
"He was cute, but childlike," Ray told the Mirror. "He loved chasing me or jumping out from behind a wall."
The clip took two weeks to shoot with an unheard of budget of $500,000. Ray knew her part didn't call for Meryl Streep-level acting.
"I was the girl who went running around screaming," she told KCRA.
The 14-minute video brought the already hot "Thriller" to a scorching peak. It greatly extended a run on the charts that, eventually, made it the top selling album of all time.
Meanwhile, Ray's career wasn't doing quite so swimmingly.
She snagged a bunch of small parts in the '80s, including playing "Hooker No. 1" in "Body and Soul," plus cameos in 1982's "48 Hrs.," 1983's "The Man Who Loved Women," and '87's "Beverly Hills Cop II" (in which she played – guess what? -a Playboy Playmate).
For a time she also dated the actor and ex-football player Jim Brown. Soon, however, the work dried up.
In 1992, Ray was charged with cocaine possession, which earned her a stint in rehab.
Jackson helped her out with money from time to time, cutting her checks for several thousand dollars, according to the Mirror.
For a while, Ray blamed Jackson for not getting her more money from the "Thriller" video, but in an interview last year, she said she had forgiven him.
In this decade, Ray gave up life in L.A. and moved north to Sacramento, where various relatives live. She resides there now with her daughter, Iam, 13.
Ray still aspires to an acting career, as well as one in music. In the meantime, she cherishes her memories.
"I didn't know that I was going to be part of history," she has said. "But that's the way it turned out, and I'm thankful."
Source: NYDaily News