DETROIT, Michigan (AP) — Lee Thomas' skin is betraying him. His once brown, even complexion is now mottled with pale patches around his eyes and mouth, along his nose and on his ears; his arms, shoulders and chest are speckled and blotched. "I'm a black man turning white on television and people can see it," says Thomas, an anchor and entertainment reporter for the local Fox Broadcasting Company affiliate. "If you've watched me over the years, you've seen my hands completely change from brown to white."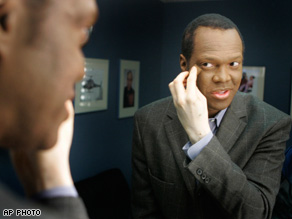 Thomas has vitiligo, a disorder in which pigment-making cells are destroyed. White patches appear on different parts of the body, tissues in the mouth and nose, and the retina.
"There is no cause. There is no cure, and it's very random," Thomas says. "I could turn all the way white or mostly white."
As many as 65 million people worldwide have the disorder, including up to 2 million in the United States.
Few people, outside medical professionals and those with the disease, had heard the term "vitiligo" until Michael Jackson revealed in the early 1990s that the disorder was behind his skin turning brown to white.
It's not fatal, but experts say vitiligo robs people of self-confidence, evokes ridicule and unpleasant stares, and pushes some into unforced seclusion.
Speaking out
The 40-year-old Thomas says that's not where the disorder needs to be. He openly talks about vitiligo and how it has affected his life and career, and has written a book about his journey titled "Turning White: A Memoir of Change." Along the way, Thomas says he's met others with the disorder and has become a celebrity spokesman for the Columbus, Ohio-based National Vitiligo Foundation.
Vitiligo attacks the soul and psyche, foundation executive director Robert Haas says.
"When was the last time you saw someone with vitiligo handling your food? It is the public's image that it is some leprosy-type of disease," he says. "A lot of folks feel this disease has trapped them and kept them away from their life goals."
That was Thomas' fear.
He uses a combination of creams and makeup to cover the growing patches of skin — which he calls devoid of color — on his face, hands and arms. Viewers, co-workers and, for years, his basketball buddies, were none the wiser.
Only family members and those closest to him knew the secret he had kept since age 25.
Thomas first noticed a change after getting a haircut while working in Louisville, Kentucky. He looked in a mirror and thought the barber had nicked him. A closer look revealed a pale spot, about the size of a quarter.
"I got two more on the other side of my scalp, on my hand and one in the corner of my mouth," he recalls in an interview from the station's studio. "That's when I went to the doctor and got diagnosed."
He didn't let it slow down his blossoming career. From Louisville, he soon landed at WABC in New York for three years beginning in 1994. After a short freelancing stint in Los Angeles, California, Thomas found his way to WJBK in Detroit, Michigan, in 1997. He has carved a niche in the Motor City market with his quirky, upbeat and humorous reporting style; his confidence, constant smile and positive air on the set mirrors his demeanor off the set as well.
Opening up
Even though Thomas uses makeup to conceal his skin discoloration, he realized the vitiligo was becoming more obvious when he couldn't hide it from a preschooler during a story about a playground. His two-toned hands frightened the girl, who began to cry.
"I thought my career was over," says the Emmy award winner who routinely travels to Hollywood for one-on-one interviews with celebrities including Will Smith, Tom Cruise and Halle Berry.
So he gathered himself one day and approached the station's news director, prepared to walk away from television.
"She said, 'Let's just see what happens,"' Thomas recalls. "As it got worse, she kept encouraging me to tell my story."
Dana Hahn, WJBK's vice president of news, says the station was concerned about Thomas possibly leaving because of the condition.
"Lee is also a friend and we wanted to help," she says. "He had covered it up so well, we really didn't realize the impact it was having or how far it had spread."
Thomas finally agreed to tell his story on television in November 2005.
After the first segment on Thomas' vitiligo aired, Hahn says he took a leave of absence and missed the initial response from viewers.
"I received 40 to 50 e-mails a day the entire time he was gone," Hahn says. "So many people found support and encouragement in his story. I've never seen the kind of response to any story in my 12 years at Fox 2."
At the time, Thomas was already writing his book.
"As all those things happened, the tone of the book changed," he says. "I was writing for all those people who were afraid to come outside."
Dr. Sancy Leachman, associate professor of dermatology at the University of Utah, calls vitiligo stigmatizing, driving some to even consider suicide.
"They feel people are looking at them all of the time," she says. "They are very self-conscious about people staring at them in the grocery line. It can be a very demoralizing condition."
Thomas acknowledges he even preferred the security of solitude to the awkward stares of strangers when not wearing his makeup.
"There were times when I would not come out of the house," he says. "I call it a mental war. It was me saying, 'I don't want to deal with it today.' I never stayed in for very long. I know people who stay in now for months at a time."
When he's out socially now, Thomas forgoes the makeup he wears on camera.
He met his girlfriend of seven months, Karen Tate, at a vegetarian restaurant they both enjoy. She said when they're out together, she notices some people staring and making muffled comments about his appearance.
"He doesn't say anything," Tate, 28, says. "It doesn't really bother me. Some people are just rude."
She says she sees past what some people can't. "He just has a very free spirit. He is just a very nice guy. He opens up completely in his book. It is something he really wanted to do."
Surprisingly, Thomas gives vitiligo some credit.
"Having this disease forces me to focus on what I am: kind, caring, honest," he says. "There are people who have diseases that will kill them."
Source: http://www.cnn.com/2007/HEALTH/conditions/12/18/turning.white.ap/#cnnSTCText