Had he made the gags in a working man's club, Martin Bashir might have got away with it. But in front of an audience of politically correct American journalists, Bashir, the broadcaster famous for his interviews with Princess Diana and Michael Jackson, never stood a chance.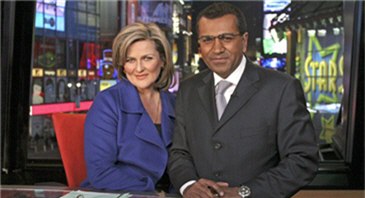 Now Bashir has been forced into a humiliating apology over astonishing, sexist comments made during an after dinner speech to the Asian American Journalists Association. Surveying the guests at the annual banquet in Chicago, Bashir declared: "I'm happy to be in the midst of so many Asian babes. In fact, I'm happy that the podium covers me from the waist down."
He didn't stop there. The London-born presenter, who moved to the US four years ago to add a fortune to his fame, even managed to upset his network copresenter Juju Chang, who was sharing the stage. Bashir noted that a speech should be "like a dress on a beautiful woman – long enough to cover the important parts and short enough to keep your interest – like my colleague Juju's."
Chang responded: "See what I have to put up with?" Bashir, 45, has now written to the journalists' association apologising for his "tasteless remark" and "moment of stupidity".
In the letter, which has been made public in the US, Bashir said: "I wanted to write and apologise for an inappropriate comment that I made at the dinner last Friday and for the offence that it caused to those present. Upon reflection, it was a tasteless remark that I now bitterly regret. "I am grateful to you for the opportunity to address those present and hope that the continuing work of the organisation will not be harmed or undermined by my moment of stupidity."
The speech, made a week ago, led to a dressing-down from his network boss at ABC. The channel's spokesman Jeffrey Schneider said: "This kind of remark has no place in any setting and Martin knows that and is truly sorry for his serious error in judgment."
Bashir rose to fame after his 1995 Panorama interview with Princess Diana in which she exposed her husband's adultery with Camilla Parker Bowles. Bashir asked the princess: "Do you think Mrs Parker Bowles was a factor in the breakdown of your marriage?" to which Diana famously responded: "Well, there were three of us in this marriage."
He went on to make a documentary in 2003 shadowing Michael Jackson. This culminated in the pop star standing trial accused of molesting one of the boys featured in the programme. Jackson was later acquitted and later filmed his own rebuttal interview of what he perceived as Bashir's underhand tactics.
In 2004, Bashir started work as a correspondent for ABC's news magazine programme 20/20. But his status in the US was cemented a year later when he was named co-anchor on Nightline, the equivalent of BBC's Newsnight.